The government's refusal to increase police pay by 3% in England and Wales is a "punch on the nose", Britain's most senior police officer has said.
Cressida Dick said she was "extremely disappointed" by the decision to give police a 2% rise, against the recommendation of an independent board.
The Met Police chief said she did not want police to be affected by understaffing like the prison service.
Home Secretary Sajid Javid said it had been a collective government decision.
"When it comes to pay recommendations… for millions of public sector workers… you have to, as a government, take them all into account," he told the Police Superintendents' Association annual conference in Leicester.
Mr Javid said that he understood concerns, however.
"This is a reflection of trying to strike that balance and I'm not pretending it's easy," he said, adding that he knows there is "a need for more resources".
The comments from Ms Dick come as a public spending watchdog called the government's approach to police funding "ineffective".
According to the National Audit Office, the Home Office does not know whether the police system in England and Wales is "financially sustainable" following widespread funding cuts.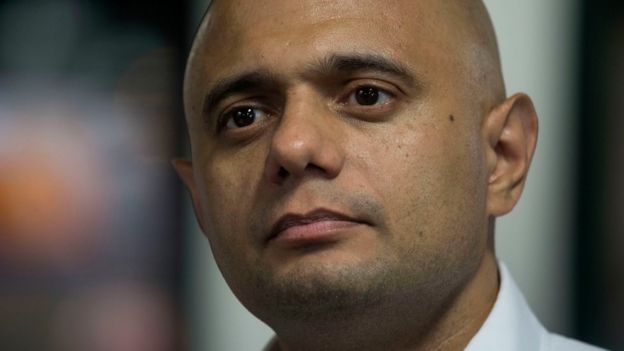 Ms Dick told the Police Superintendents' Association that the government decision on pay would make it harder to recruit and retain officers.
"I do think that decision will have affected morale," she said. "I don't want the government to wait until we are struggling like the prison service with chronic understaffing."
She said the decision to impose the 2% pay award for pensionable pay flew in the face of evidence and rational argument, adding that it "feels like 1% to our officers".
"I am extremely disappointed by that outcome," she said, adding that police had worked "tirelessly" with the Home Office and the independent Pay Review Body (PRB) to make the case for "fair pay" for officers.
Ms Dick noted it was the second year in a row the PRB recommendation had been rejected, adding that it leaves the whole process "in tatters".
The Home Office acknowledges forces are stretched but says it has increased funding this year and points out that new officers are being recruited.
However, Ms Dick argued that it was proving difficult to recruit in the Met, partly, she said because of officers' pay, which starts at £22,300 in London.
At the conference Mr Javid also said he will ensure police chiefs can award bonuses of up to £4,000 for superintendents in challenging roles and officers in hard-to-fill jobs.
"I do fully recognise the pressures on policing so let me be very clear with you," he said. "I will continue to fight on the police's behalf so that you have the resources that you need to do your jobs effectively."
BBC home editor Mark Easton said the Home Office had faced a double whammy with Ms Dick's comments and the audit office's report, which was "one of the most critical I can remember".
"In normal circumstances the home secretary might be on the ropes on a day like today, but I think because Sajid Javid is new to the job I think there's understanding he's still getting his feet under the table," he said.
"But of course the public is getting more concerned about crime, there's still the threat from terrorism, and I don't think he's going to be able to dodge these questions for that much longer."
source: www.bbc.com